Julie McIntosh Johnson, Author and Publisher
Shop – Always the Latest Edition   The shopping page is temporarily out of service and should be repaired soon. Please contact one of our dealers to make a purchase. We apologize for the inconvenience.
Basics of Keyboard Theory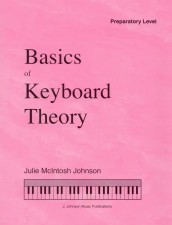 Levels Preparatory through 10 available
Follows theory requirements of MTAC Certificate of Merit®* Piano Syllabus
Each level reviews old material and presents new concepts
Excellent for transfer students; important reinforcement for returning students
Clear, easy to understand explanations
Application of new concepts to repertoire of an appropriate level
Multi-chapter reviews and final test include drills and analysis
A popular addition to music lessons since 1992
Ear Training Basics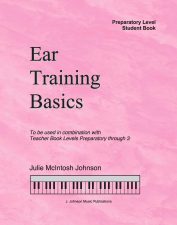 Levels Preparatory through 10 available
An innovative teaching approach helps minimize student guessing
Separate student and teacher books provide the framework for a collaborative learning experience
Student Books include worksheets and an MP3 CD
Teacher Books include activities to be completed at the lesson, teaching tips, and answers for the student home assignments
Downloadable audio files now available at www.eartrainingbasics.com
Julie Johnson's Guide to AP** Music Theory, Second Edition (2019)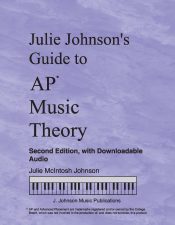 Follows requirements of the College Board Advanced Placement* Music Theory exam
Downloadable Audio files at www.juliejohnsontheory.com
Edited and expanded based on customer feedback
More progressive sight-singing and ear-training
New In-Class ear-training pages
More "free response" assignments
Practice test and grading guidelines
Supplementary materials available online
Corresponds with current exam requirements
*Certificate of Merit® is an evaluation program of the Music Teachers' Association of California. Reference to 'Certificate of Merit®' (CM) does not imply endorsement by MTAC of this product.

**AP and Advanced Placement are trademarks registered and/or owned by the College Board, which was not involved in  the production of, and does not endorse, this product.